When talking about speed and exotic cars, one of the first names that come to mind is the Italian supercar Ferrari. The name Ferrari has commanded respect and admiration since 1929 when Enzo Ferrari began sponsoring and training drivers to compete in championship races. Since that time, Ferrari has changed hands and is currently owned by the Fiat company, which has pumped out some of the fastest and most luxurious supercars available.
If you are ready to join the winner's circle, Ferrari can get you there. The hardest part is simply deciding which model best suits you. If you are ready to sell your Ferrari, or you want to add one to your collection, iLusso can help. Here are the 5 top-selling Ferrari models of all time.
Ferrari F40

Known as the last Ferrari model personally approved by Enzo Ferrari, the F40 would be a perfect steed for any stable. Its design celebrated its 40th anniversary and at the time, it was the fastest, most powerful electric motor for a Ferrari ever released to the public. Produced from 1987 – 1992 with an MSRP of $400,000, it was also the most expensive option ever released at that time. The F40 was outfitted with a rear-mounted 2.9L inter-cooled V8 that was twin-turbocharged. With a 0-60 time of just 4.2 seconds, the F40 could perform on any track with its head held high.
Ferrari 458 Italia

The iconic Ferrari 458 Italia has been causing an uproar since its conception in 2009. Being the successor of the F430, the 458 ultimately came with its unique design and signatures that still challenge the game today. With experience in formula one racing, Ferrari was able to take many of the technologies straight from the race car to the streets, causing this lady in red to demand respect. The 458 Italia was able to zip down the track with a top speed of 202 MPH or 325km/h. This beast is powered by a 4.5L V8 featuring direct fuel injection, a first for Ferrari's mid-engine road cars. Produced from 2010 – 2015, many of these exotic cars are still around and make a popular addition to anyone's stable of toys.
Ferrari Portofino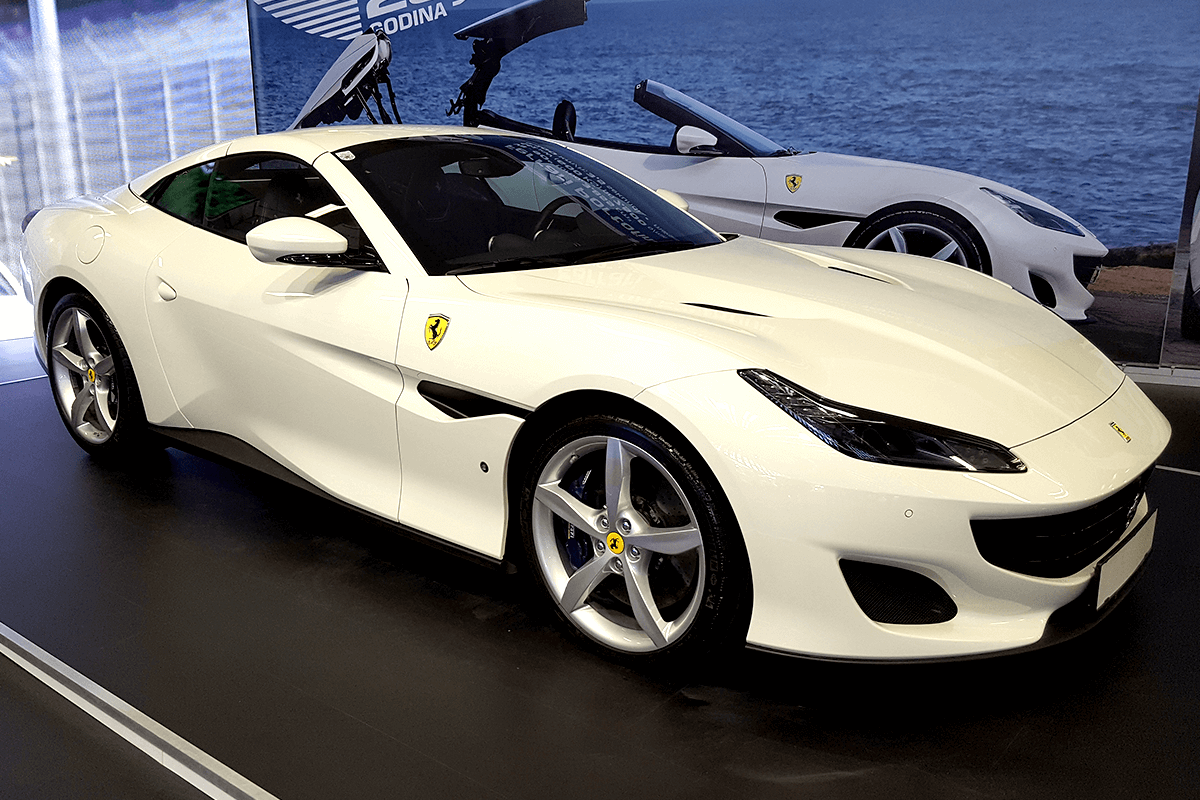 If the wind in your hair is an option you want, then the Portofino has you covered (or uncovered). Featuring a removable hardtop, the Portofino can offer the best of both worlds. Its design offers a grand touring style of driving, featuring front-mounted, electric motors that are a twin-turbocharged 3.9L V8 engine. This is a huge selling point for many drivers who plan on enjoying the Portofino more regularly than the collector pieces that so many of these supercars have become. Being one of the more affordable ways to join the elite owners club of Ferrari, The Portofino comes in at just over $240,000. Since being introduced in 2017, this supercar was revamped as the Portofino M in 2020 with additional features.
Ferrari GTC4Lusso

Taking the whole family for an outing in the Ferrari is not feasible in most situations. But the GTC4Lusso gives owners this option with four seats and a trunk. Don't let that fool you — this is no family car or road car. Boasting a 6.3L V12 engine with 680HP, the GTC4L will confidently decimate your everyday family car. With a top speed of 208 MPH, or 335 km/h, and a quarter mile time of just 3.2 seconds, you can comfortably get from point A to point B in a big hurry. This model, produced from 2016 – 2020, also boasts an all-wheel-drive system driven by two transmissions. The Ferrari GTC4Lusso is definitely an exotic car for the entire family. Or at least, a family that enjoys roller coasters.
Ferrari 488

With a 3.9L V8, this twin-turbocharged hellion has some very impressive numbers. Able to complete the 0-60 quicker than many of its brethren. Its design compiled enough sleek lines and exotic curves to attract the most discerning supercar aficionado. Everything about the design of the car has a specific goal. To reduce drag and increase airflow, even the door handles are designed to direct airflow to the intakes located above the rear tires. The 488 was voted Supercar of the Year in 2015. It could be used by the Scuderia Ferrari as one of their race cars.
There are Ferrari GTO, Ferrari SF90, Ferrari Testarossa, Ferrari LaFerrari, Ferrari 360 Challenge Stradale, and more sports cars by Ferrari Enzo. Are you looking to sell your Ferrari, or do you want to include one of these popular sports car models in your collection? iLusso can help. As a world leader in hypercar inventory and sales, we can locate just what you seek. View our current inventory or contact us directly with your questions or specific requests.