My Garage Registration
Make the most of your shopping experience by creating an account.
Access your saved cars on any device.
Receive Price Alert emails when price changes,
new offers become available or a vehicle is sold.


My Garage Sign In
Don't have an account? Create Account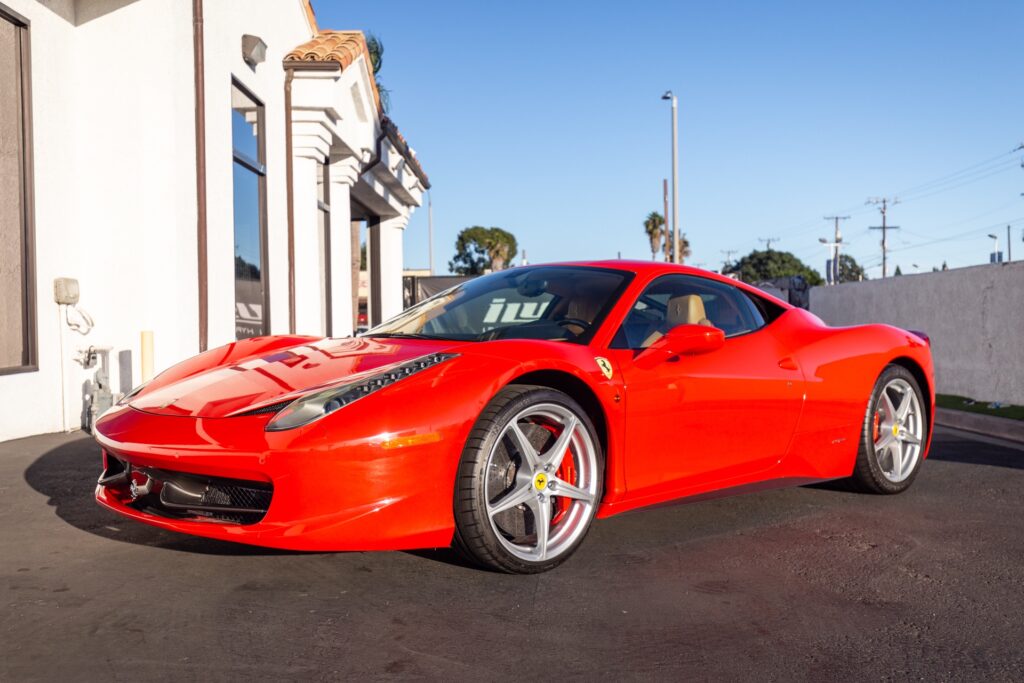 The Ferrari 458 is a mid-engined sports car produced by the Italian automotive manufacturer Ferrari. The 458 replaced the Ferrari F430, and was first officially unveiled at the 2009 Frankfurt Motor Show. It was succeeded by the Ferrari 488. The 458 is powered by a 4.5-liter V8 engine, which is capable of producing 562 horsepower and 398 lb-ft of torque. This allows the car to accelerate from 0-60 mph in just 3 seconds, and reach a top speed of over 200 mph. The engine is paired with a 7-speed dual-clutch transmission, which allows for lightning-fast gear changes and smooth power delivery. One of the most notable features of the 458 is its aerodynamic design. The car features a number of vents and ducts that help to increase downforce and reduce drag, giving the car better stability and handling at high speeds. The car also features a number of advanced electronic systems, such as the Ferrari Dynamic Enhancer, which helps to improve the car's handling by adjusting the brake pressure at each wheel. The 458 also boasts a high-tech interior, with a number of advanced features designed to keep the driver comfortable and connected. The car features a large touchscreen display, which allows the driver to control a variety of functions, such as the audio system and navigation. The car also features a number of advanced safety systems, such as lane departure warning and forward collision warning, which help to keep the driver and passengers safe on the road. Overall, the Ferrari 458 is a truly amazing car. Its combination of raw power, advanced technology, and sleek design make it one of the most impressive cars on the road today. Whether you're looking to turn heads on the street or take on the track, the 458 is sure to impress. It's worth noting that the 458 was praised for its handling and power, but also criticized for its lack of practicality and a high maintenance cost. Also, due to the Ferrari's focus on performance, the car may not be suitable for everyday use for a long period of time, but perfect for a weekend getaway or a special occasion. In conclusion, the Ferrari 458 is a dream car for many enthusiasts. This Italian stallion is a perfect combination of power, style and advanced technology. If you are looking to buy a Ferrari, view our inventory. If you are looking to sell your Ferrari 458, get an offer for your exotic car in minutes at https://www.ilusso.com/sell-my-ferrari/.