My Garage Registration
Make the most of your shopping experience by creating an account.
Access your saved cars on any device.
Receive Price Alert emails when price changes,
new offers become available or a vehicle is sold.


My Garage Sign In
Don't have an account? Create Account
Lamborghini cars are one of the famous brands when it comes to sports cars. Since it's famous, you're curious to know who owns Lamborghini. This simple question has a very lengthy answer. There have been quite a few owners of the famed supercar producer and its rights. It all started in 1963 when Ferruccio Lamborghini founded his company with a single mission on his mind. He, Enzo Ferrari, wanted to produce a touring supercar with refined qualities like power and luxury, qualities that his Ferrari lacked.
He envisioned offering more than just an automobile. He wanted to offer an experience to road drivers, not just race car drivers. With his completion of the Lamborghini Miura in 1966, and less than a thousand produced, he did just that.

Over ten solid years, Lamborghini grew into a well-known and respected name within the automotive world. However, like all good things, it would seem to come to an end, as the 1973 worldwide downturn, accompanied by the first oil crisis, caused havoc on the financial stability of the company. Since 1973, Lamborghini Trattori has been a separate entity from the automobile manufacturer. In 1974, Ferruccio Lamborghini sold the company and retired from the game.
A Convoluted Exotic Car History
The name Lamborghini does not die there, as we all know. Georges-Henri Rossetti and René Leimer purchased the company with dreams of salvaging the great name of Lamborghini.
However, this was a short tenure at ownership, as they went bankrupt just a few years later. After a court order, the company was then placed with Jean-Claude and Patrick Mimran. Not known at the time, this action was the saving grace for the Lamborghini we all know and love.
After a quick name change, Nuova Automobili Lamborghini SpA would move forward under more capable and visionary management and leadership.
Patric Mimran would later be known as the man who saved Lamborghini. With his idealism and engineering know-how, this president and CEO released a whole new lineup stuck to attributes known to the brand, such as luxury, speed, and dependability. Lamborghini now offered an exotic high-performance off-road vehicle to further its diversity in the automotive world.
After years of success, Mimran eventually sold Lamborghini to the Chrysler company. During Crysler's ownership, they were able to offer one of the most iconic Lamborghinis ever made, Lamborghini Diablo. It seemed this car was seen in the majority of movies during the same time era to show social standing and to flaunt wealth. There was even a merger between Fiat Chrysler Automobiles and Peugeot S.A.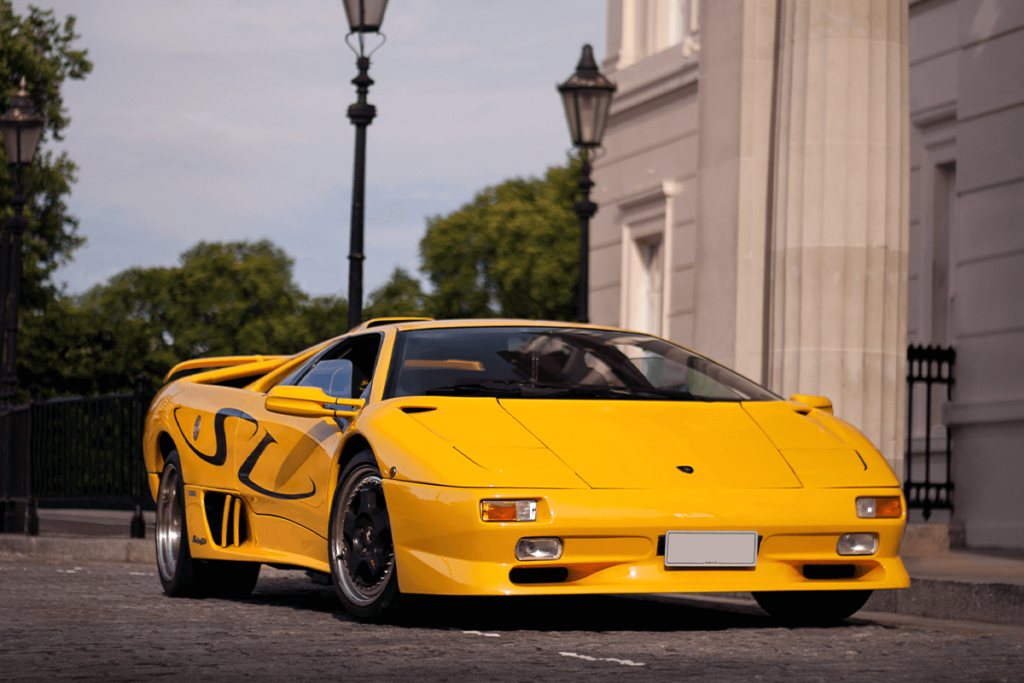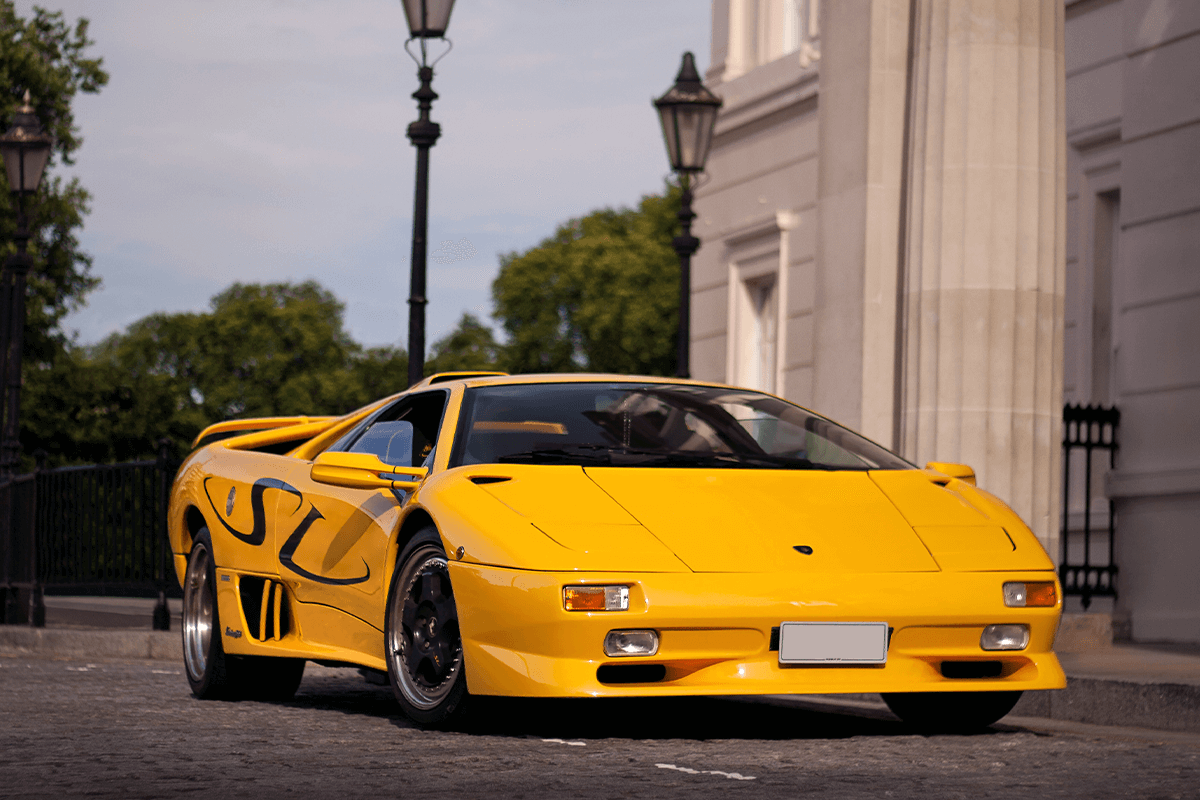 Chrysler corporation decided to sell Lamborghini after just seven years of ownership to an investment group. Chrysler sold Lamborghini to the Malaysian investment group Mycom Setdco and Indonesian group V'Power Corporation in 1994. From there Mycom Setdco and V'Power Corporation held the rights and ownership. In
1998 Lamborghini found a new home under the control of the Volkswagen group. By 1999, the holding company controlled three subsidiaries: Automobili Lamborghini Holding S.p.A., handling the manufacture of cars; Motori Marini Lamborghini S.p.A., taking over marine engine production; and Automobili Lamborghini Artimarca S.p.A., which was responsible for licensing and merchandising.
New Life for Lamborghini Under Volkswagen
Volkswagen (VW Group) is no new kid on the block when it comes to exotic cars and raw power. With brands of sports cars such as Porsche, Bently, Bugatti, and Audi under their belt, they are well-versed in the supercar industry.
Between 2002 and 2007, Volkswagen, the parent company, restructured its automotive division by separating everything into two divisions: Volkswagen AG and Audi AG. Audi AG is a wholly-owned subsidiary of the Volkswagen Group. These divisions would divide and conquer.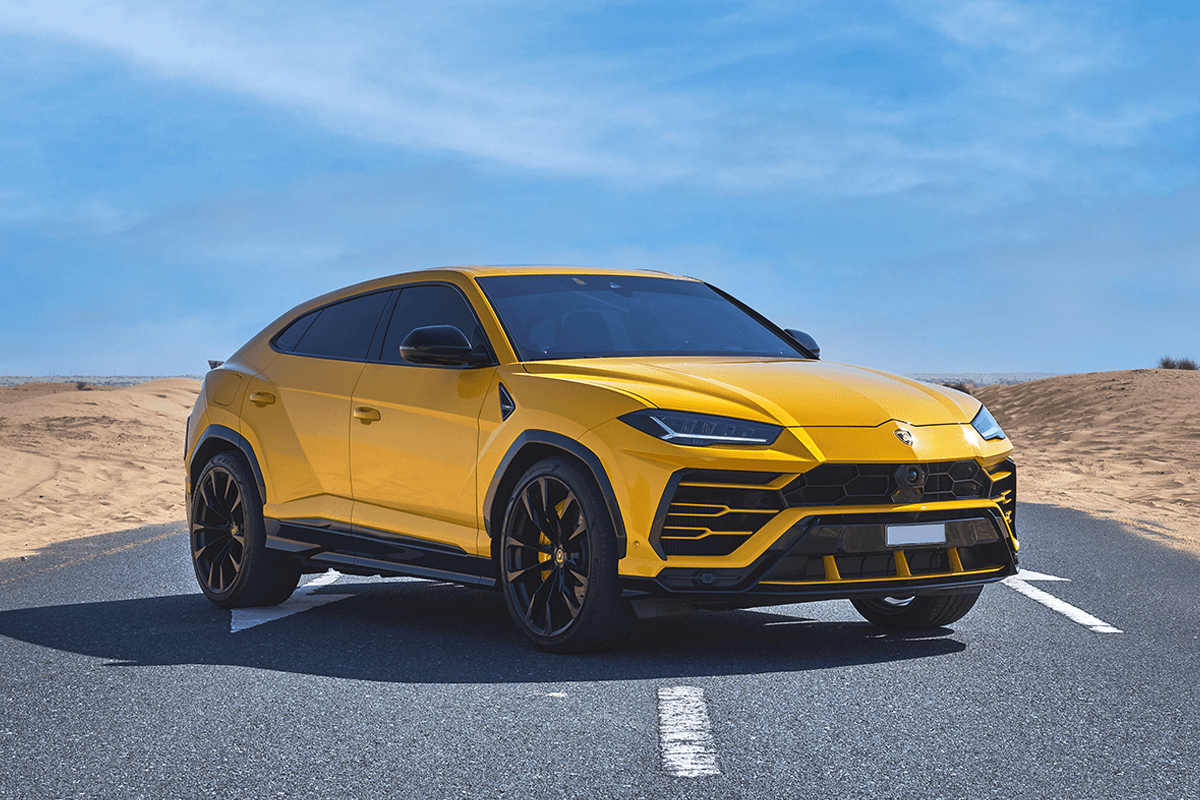 Volkswagen would focus on Skoda, Volkswagen, Bentley, and Bugatti. The Audi division would focus on SEAT, Audi, and Lamborghini. The Audi division has majored in speed and performance accompanied by luxury and a taste of the exotic.
The Volkswagen division is more defined by "classic values." Since the separation of the two divisions, the Volkswagen company has never been more profitable. Able to focus on different strengths, the company has truly advanced to an automotive giant.
Lamborghini Current Ownership
Although ownership has changed many times throughout its history, the brand of Lamborghini has never faltered. From the determination of Ferrucio to the technological advancements made by Volkswagen, Lamborghini continues to be a top contender in the exotic car industry.
As Audi (Volkswagen Group) company currently holds the rights and ownership of Lamborghini, we are sure the brand will continue to succeed and hold strong to the values of so many contributors throughout the years.
| | |
| --- | --- |
| Company Name | Automobili Lamborghini S.p.A. |
| Founded | 1963 |
| Founder | Ferruccio Lamborghini |
| Headquarter | Sant'Agata Bolognese, in Northern Italy |
| Current Ownership | Audi, Volkswagen Group |
Sell Your Lamborghini
Do you want to sell your Lamborghini? A popular market exists for these exotic cars. iLusso can help you sell your Lamborghini, or we can help you locate one for purchase that is the perfect fit for your lifestyle.
Check out our current inventory and contact us for help locating the perfect exotic car.